ELJO Travel LLC was created by Jodie Baacke in 2012 to offer customized tour enthusiasts the opportunity to travel in small harmonious groups that share fine adventures of like interests, such as gardens, historic sites and/or cultural activities across the USA and abroad.
Our agents have a wealth of knowledge and an average of 30+ years of experience in the travel industry.   We believe in continuing education and encourage our travel advisors to participate in educational travel programs and on-site experiences.   We often host video conferences and virtual experiences with travel vendors and destination experts.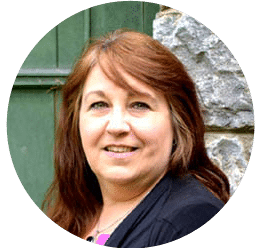 Please meet our team
Jodie Knudson Baacke, CTC
Owner
A Door County native and college art major, Jodie has been in the travel industry since the early 80's. Having received her Certified Travel Counselor (CTC) certification in 1984, Jodie focuses on travel destinations that are important to her clients as well as keeping up with current trends. With more than thirty years in the travel business, she has seen it all. Prior to opening ELJO Travel LLC, Jodie was President of a very successful travel agency with multiple locations. In 2012, she decided to step back from that rat race and do what she really loves ~ planning customized travel for people with similar interests. As an Ireland Destination Specialist and Custom Group Travel Specialist, she focuses on trips of a lifetime to fulfill clients' travel dreams. Whether social, cultural or demographic, she takes great pleasure in researching travel destinations to create tailor-made programs for travelers with common interests. Continuing the hunt, by networking with reputable destination companies and creating the masterpiece of a true travel journey while making sure it is a well-balanced itinerary is her goal. Jodie leads a team of several independent contractors located around the country who have been carefully screened to be sure that they meet the ELJO Travel Agency model. Jodie, also, serves as the travel coordinator for the Milwaukee Brewers Fantasy Camp. Contact Jodie at Jodie@ELJOTravel.com or call 414.321.8605
Barbara Schumacher, CTC
Barbara (also known as Barb) started her travel career in the mid 90's when she purchased a travel agency in West Bend, WI. "Travel on South Main" had serviced all types of travelers, but Barb especially enjoyed escorting international groups. After selling her agency in 2011, Barb helped out several Milwaukee area agencies, including serving as a manager of a successful, renowned downtown travel agency. In 2012, as a volunteer, Barb became the 'travel person' for Hart Park Senior Center, planning and escorting both day and extended trips for their members. Barb had joined ELJO Travel in 2013 as an independent contractor, where she still enjoys working with the Hart Park Senior Center members who are eager to go to new places. Barb usually plans and escorts 5-7 extended tours per year, including one international tour, usually in the fall (which is her favorite time of year to travel to far-away places). Although Barbs focus is on group travel, she is also available to lend her travel expertise and experiences to those wishing to travel independently. Barb has received her CTC Certification and is also holds Commodore Status with Princess Cruises. Contact Barb at Barbara@ELJOTravel.com or call 414.305.1060
Sheri Koch, PADI, ACC, DS
New to Hot Springs Village area but not to the travel industry, Sheri is an experienced leisure travel consultant with over 35 years' experience in travel. Joining ELJO Travel in 2019, as an Independent Contractor, she brings a world of travels and experience in both domestic and international. Sheri is well organized, efficient and professional. Always working to find the answers you are looking for. She is a PADI (Professional Association of Dive Instructors) Master Diver, ACC (Cruise Line International Association – Accredited Cruise Counselor), DS (International Assn of Travel Agents, Certified Destination Specialist) in many destinations (Alaska, Peru, Costa Rica, Egypt, Ecuador, Thailand, Kenya, Hong Kong, Philippines, South Africa), Disney College of Knowledge, Commodore Status with Princess Cruises, Past President Waukesha County Divers Association, Past VP Milwaukee Rose Society and a retired Snowstar Ski School, Ski Instructor. To quote Sheri. "I enjoy to travel the world and explore new places. New experiences and unique travel are my passion. Not happy going to the same place over and over, let's talk! Contact Sheri at Sheri.compassrose@gmail.com or call Compass Rose Travel 262.993.0361 www.compassrosetravel.agency
Elaine Nap, Event Planner & Custom Travel Programs
Joining ELJO Travel as an independent contractor in 2018, Elaine's love for travel started when she was 15 years old and she has been traveling ever since. During the course of her life she has had the opportunity to put together theatre trips to Chicago for a number of private clubs in Wisconsin. She has always loved seeking out new adventures and learning about the cultures of each place she has visited. She had joined Mark Travel in 1999 as a travel representative selling packages to Las Vegas and Biloxi. During her full time job at two utility companies in Milwaukee, she created and escorted tours for her employees for almost 20 years. In Elaines lifetime she has taken 49 ocean cruises, travel in the United States, and Europe extensively and has found a love for River Cruising. She loves sharing information about the places she's traveled, foods that she experienced and offering unique information on cultural diversities of the countries she's experienced. She has met wonderful people across the world and has kept in contact with a number of these new friends. Her personal travels have taken her to Russia, Sweden, Denmark, Germany, Italy, France, Norway, Ireland, Liechtenstein, Czech Republic, Switzerland, Poland, Turkey, Greece, Iceland to name a few; plus the Caribbean Islands, Canada, and numerous states across America. Contact Elaine at TravelsbyNap@gmail.com or call 414.241.0733
Elmer Baacke, MaEd
Elmer, married to Jodie, is part of our team. He supports the rest of our team by doing a lot of the behind the scenes work. Being a former Principal and Teacher, he spends a lot of time correcting many of our spelling errors and grammar mistakes. We do let him get away, once in a while, to perform escorting duties.
Jelica Lazic, LTC
Jelica joined ELJO Travel as an independent contractor in 2021. Jelica is a Certified Travel Leisure Consultant in the travel industry with over 35 years of experience. Her passion for travel began in 1971 at the ripe old age of 11, when her family traveled to the former Yugoslavia to visit her grandparents for the first time. The experience left her with a life-long desire to keep traveling. Jelica has traveled to many destinations around the globe and has extensive world-wide travel experiences. She truly loves her job and making sure that clients vacation dreams come true. Contact Jelica at jelica_lazic@yahoo.com (JL Travel) or call 414.940.5407